I have mentioned this employment tribunal case with a pretty massive payout before, but thought it was worth reproducing in light of what the paranoid and now deceased Sean Hoare had to say about the culture at News of the World. Effectively employees were threatened, they had to use any means whatsoever to get the story and the threat was, well if you do not I can just get outsiders to hack and pry and will no longer be needing your services. Mr Hoare, it seems to me was just as damaged by his treatment as this man, it is just that he did not have the strength to do something about it.
Indirectly, I feel that Coulson is responsible for his death. Cameron also knew about this when he chose to employ that vile man. At 2.54 Sean talks about the "culture" and how he lost his job.
News of the World faces £800,000 payout in bullying case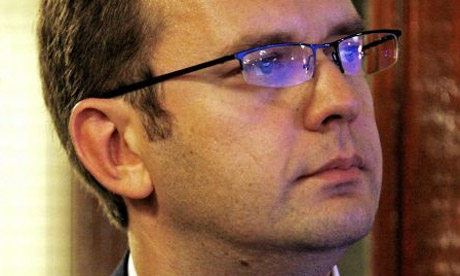 A News of the World reporter who suffered from a culture of bullying led by former editor Andy Coulson, who is now David Cameron's head of communications, has been awarded almost £800,000 for unfair dismissal and disability discrimination.
Matt Driscoll, a sports reporter sacked in April 2007 while on long-term sick leave for stress-related depression, was awarded £792,736 by the east London employment tribunal. It is believed to be the highest payout of its kind in the media, and legal costs could take News International's total bill well over the £1m mark.
The award will cause fresh embarrassment for Coulson, who resigned in January 2007 from the newspaper after the former royal editor, Clive Goodman, was jailed for hacking into the phone messages of aides to the royal family.
Earlier this year, Coulson faced renewed pressure, after the Guardian revealed that the News of the World's owner, News International, had paid out £1m to settle claims from Gordon Taylor, the chief executive of the Professional Footballers' Association, and other victims of phone hacking.
Driscoll, who has not been in a full-time job since his dismissal, said the award reflected the severity of the case.
"Andy Coulson was at the heart of all of this," he said. "He should look at himself and decide if his actions in the course of the way I was treated were correct. If I were him, I would find it very hard to look in the mirror. I was subjected to unprecedented bullying and he did nothing to stop it, if anything he accelerated it. I didn't do anything wrong."
He added: "I was in the top 30 sports writers in the country. I then came up against the venom of Andy Coulson, which I found very hard to take. It has taken an incredible amount of strength to take on the richest news group in the world and win. I don't think anyone has ever done that before with the success that I have."
The tribunal found in December 2008 that Driscoll had fallen victim to "a consistent pattern of bullying behaviour". "The original source of the hostility towards the claimant [Driscoll] was Mr Coulson, the editor; although other senior managers either took their lead from Mr Coulson and continued with his motivation after Mr Coulson's departure; or shared his views themselves. Mr Coulson did not attend the tribunal to explain why he wanted the claimant dismissed."
The News of the World, which defended the case, said the main reason for Driscoll's dismissal was his capability or qualifications for performing his work.
Before going on sick leave in July 2006, Driscoll was subject to disciplinary proceedings and issued with formal warnings starting from November 2005 over alleged inaccuracies in his reporting and for failing to turn up punctually on one occasion.
The tribunal found that was merely a pretext and the real reason for the disciplinary proceedings was simply that Coulson wanted to "get shot" of him. In July 2006, Coulson wrote in an email to the deputy editor, Neil Wallis, that he wanted Driscoll "out as quickly and cheaply as possible".
Driscoll, who joined the paper in 1997 and was promoted twice, was initially highly regarded, according to the tribunal ruling. That changed in August 2005 when Coulson turned against him for failing to stand up a tip that Arsenal were planning to play in purple shirts, a story that later appeared in sister paper, the Sun.
The judgment singled out Coulson for making "bullying" remarks in an email to Driscoll after the first formal warning, letting him know that he thought he should have been sacked.
According to the tribunal, the bullying continued after Driscoll went on sick leave. Senior management at the paper sent Driscoll a barrage of emails, phone calls and visited his home to demand that he see a company doctor, despite Driscoll's GP advising him to "distance" himself from the source of his stress.
News International declined to comment .