Transcript of the hearings at the bottom of this post.


Rupert Murdoch's phone-hacking humble pie
Tycoon expresses regret for News Corporation's involvement in scandal but insists he was kept in dark
Maybe it is just me, ever the cynic, but the over attentive wife, the look of James before it happened and her speed and well aimed thumps just looked a wee bit contrived. I can imagine Rupert figuring this would bury any bad news of anything that went wrong for them at the Committee Hearing. He did not really want to go, but when pressed arranged a few stunts. Anyway cheers Rupert, it is funny, as are your attempts at pretending you have senile dementia.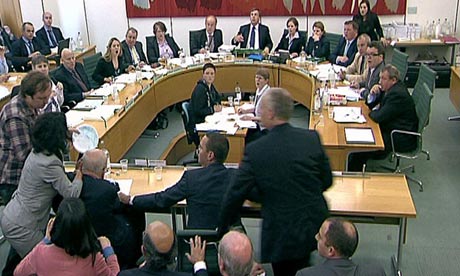 Rupert Murdoch
defiantly insisted on Tuesday he was not responsible for what he called "sickening and horrible invasions" of privacy committed by his company, claiming he had been betrayed by disgraceful unidentified colleagues and had known nothing of the cover-up of phone hacking.
During a three-hour grilling at the culture select committee, disrupted by a protester throwing a plate of shaving foam, the once all-powerful News Corp chairman and chief executive told MPs: "I am not responsible."
In a halting performance, at times pausing, mumbling and mishearing, Murdoch said those culpable were "the people I hired and trusted, and perhaps then people who they hired and trusted". But he denied the accusation he had been "willfully blind" about the scandal.
Flanked by his son James, the chairman of
News International
, Murdoch said he and his company had been betrayed in a disgraceful way, but argued he was still the best person to clean up the company, adding in a rehearsed soundbite that his day in front of the committee represented "the most humble day of my life".
In a Westminster hearing screened worldwide, he repeatedly tried to avoid identifying the specific culprits in his company, often blaming earlier legal counsel for inadequate advice or leaving his son to explain his behaviour.
But in separate testimony to the home affairs select committee, Lord Macdonald, the former head of the CPS, now on contract with News International, revealed it had taken him three to five minutes to examine documents kept by the company's solicitors showing widespread criminality at the company.
Macdonald said in his view the criminality revealed was "completely unequivocal", adding when he reported his findings to the News International board recently there was surprise and shock. He said: "I cannot imagine anyone looking at the file would not say there was criminality," including payments to
police
.
The file was kept at the solicitors Harbottle & Lewis, and the police investigation is now centring on which executives tried to conceal its contents. In May 2007 Harbottle & Lewis sent a two-paragraph letter to News International executives claiming their examination of the documents showed there was no evidence any senior executives knew of illegal activities by the reporter Clive Goodman, or of any other illegal activities.
The physical assault on Murdoch came near the end of the evidence session, prompting gasps as his wife, Wendi Deng, leaped up to hit the assailant, Jonathan May-Bowles, a participant in UK Uncut events.
May-Bowles was detained by police as James Murdoch angrily asked officers why they had not protected his father. The Commons Speaker, John Bercow, called for an inquiry.
The culture and home affairs select committees between them took more than eight hours of evidence about the phone-hacking scandal. Under cover of the drama of the hearings, the Conservatives revealed that Neil Wallis, a former
News of the World
deputy editor, had given "informal unpaid advice" to Andy Coulson when he was director of communications at the Conservative party.
In a statement the party said: "It has been drawn to our attention that he may have provided Andy Coulson with some informal advice on a voluntary basis before the election. We are currently finding out the exact nature of any advice."
Wallis was arrested last week on suspicion of phone hacking, and the furore surrounding his hiring by the Metropolitan police between October 2008 and September 2009 has led to the resignation of Sir Paul Stephenson, the Metropolitan police commissioner, and the Met's assistant commissioner John Yates, who both gave evidence on Tuesday.
Separately emails were released by Downing Street showing
David Cameron
's chief of staff, Ed Llewellyn, had on 20 September 2010 turned down the opportunity of a briefing by the Metropolitan police on the phone hacking. Labour claimed it showed an extraordinary dereliction of his duty to find out the scale of wrong-doing and the potential involvement of Coulson, the former No 10 director of communications.
Cameron will be pressed on the issue when he makes a statement to MPs on how he is handling the crisis. He has been summoned to a 1922 backbench committee meeting to justify his response, including his decision to hire Coulson.
The publication report from the all-party home affairs committee, which has been brought forward in time for Cameron's statement today, has found that News International "deliberately" tried to block a Scotland Yard criminal investigation into phone hacking at the News of the World. The report finds the company "deliberately" tried to "thwart" the 2005-6 Metropolitan police investigation into phone hacking carried out by the tabloid.
Much of the cross-examination of the Murdochs was largely designed to locate how high the apparent cover-up of systematic law-breaking went. James Murdoch was forced to admit, after much wriggling, that his company was still paying the legal costs of Glenn Mulcaire, one of the private detectives on the payroll of News of the World found guilty of hacking phones. James Murdoch said he was shocked and surprised to learn the payments were continuing, and denied it had been done to buy silence.
Pressed by the Labour MP Paul Farrelly, Rupert Murdoch said he would stop the payments if he was contractually free to do so. James Murdoch denied the large out-of-court settlements to the PFA chief executive, Gordon Taylor (£700,000), and publicist Max Clifford (£1m including legal costs), authorised by him in 2008, had not been pitched so high to buy their silence. He insisted the settlement level was based on legal advice, or in the case of Clifford due to the ending of a wider contract.
James Murdoch also revealed he had authorised the settlements but had not told his father until 2009 after the case became public, saying the payments were too small to be reported to a higher board. He refused a request from MP Tom Watson to release Taylor from his confidentiality agreement.
Both James Murdoch and Rebekah Brooks, the former chief executive of NI who gave evidence later to the committee, said they had acted as soon as evidence emerged in civil cases at the end of 2010 that phone hacking had not been confined to Mulcaire and Goodman.
James Murdoch apologised for the scandal and told MPs: "These actions do not live up to the standards our company aspires to." The three came under pressure over a letter in May 2007 prepared by Harbottle & Lewis on the instruction of Jon Chapman, the former director of legal affairs, and Daniel Cloak, the head of human resources, suggesting phone hacking had not been widespread. The files on which the Harbottle & Lewis letter is based were re-examined in April by senior News International executives including Will Lewis and Lord Macdonald.
In tense opening exchanges Murdoch revealed he had mounted no investigation when Brooks told parliament seven years ago that the News of the World had paid police officers for information. He said: "I didn't know of it." He also admitted he had never heard of the fact that his senior reporter at the News of the World, Neville Thurlbeck, had been found by a judge to be guilty of blackmail.
Watson interrupted to prevent Rupert Murdoch's son answering the questions, saying: "Your father is responsible for corporate governance, and serious wrongdoing has been brought about in the company. It is revealing in itself what he does not know and what executives chose not to tell him." Rupert Murdoch denied he was ignorant about his company, banging the table and saying News of the World was "less than 1%" of News Corp. He was asked about his connections to the Conservative party and revealed it had been on the advice of the prime minister's staff that he had gone through the back door to have a cup of tea with David Cameron after the election to receive Cameron's personal thanks for supporting his party in the election.
"I was asked if I would please come through the back door," Murdoch told the committee.
Rupert Murdoch denied that the closure of the News of the World was motivated by financial considerations, saying he shut the Sunday tabloid because of the criminal allegations. In one flash of anger he complained his competitors had "caught us with dirty hands and created hysteria".
Aware he must prevent the scandal spreading across the Atlantic, he said he had seen no evidence that victims of the 9/11 attacks and their relatives were targeted by any of his papers.

-------------
But the first question is directed toward James Murdoch about his clearly incomplete investigation when phone hacking allegations were first made. He begins with an apology.

"These actions do not live up to the standards of News Corp.," says the younger Murdoch.

He is interrupted by his father, Rupert Murdoch, who notes rather dramatically: "This is the most humble day of my life."

The questioner quickly asks the obvious query, after James Murdoch claims News Corp. was not in full possession of the facts when execs had told a previous committee there was no reason to believe there was more widespread hacking.

Were News Corp. execs lying?

James Murdoch continues to insist that the bulk of evidence came out — "real evidence" — in later civil trials. And also, that News Corp. is now investigating the situation fully.

He throws around words like "proactive action" and "transparency," which is probably cold comfort now to those hacked when things were less clear to News Corp.'s senior management.

Now up, Rupert Murdoch, who is asked quickly about statements he made about not tolerating wrongdoing and who had lied to him at News Corp. about the phone hacking.

Apparently, he "didn't know" a lot about the hacking that took place, while also defending the non-hacking employees of his company.

But the questioner is still on him about exactly what he did know about the situation, which seems to be — at least according to his testimony — a lot of I-don't-knows.

6:53 am: It continues about what Rupert Murdoch knew and when he knew it and what he did. Or not.

As Rupert Murdoch keeps up with this tone of not being clued in to what have turned out to be critical events, James Murdoch wants to keep jumping in with the details, which he is eager to impart.

"At what point did you find out criminality was endemic at News of the World?," asks the questioner.

Rupert Murdoch does not like the word endemic, but stresses that he was "shocked, appalled and ashamed" by the case of the murdered girl, Milly Dowler.

The questioner seems frustrated by Rupert Murdoch's answers, which are for the typically razor-sharp media mogul unusually slow.

Like a persistent terrier who wants to perform, James Murdoch is back again offering to serve up the deets.

7:04 am: Now, it is onto the closing down of News of the World: Was the tabloid shut down because of the criminality?

"We had broken our trust with our readers," says Rupert Murdoch. "We felt ashamed for what had happened."

A new questioner is on, with a bizarre query about why Rupert Murdoch came in the back door of the Prime Minister's house at 10 Downing Street on a recent visit there.

It's a cloddish effort to show him as a puppetmaster to pols, but only serves as a punch line.

Back on track, with questions about whether there was hacking in the U.S., which Rupert Murdoch said he could not believe had happened.

More questions about how badly the company acted, which came down to the questions about whether he was "ultimately" responsible for the hacking.

"Nope," says Rupert Murdoch, who keeps insisting he relied on others, some of whom apparently "misled" him.

It's an astonishing admission and, really, excuse, given he has been chairman, CEO and a very strong leader of News Corp. for a more than a half-century.

7:16 am: A new questioner, who asks who decided to close down News of the World. It was Murdoch himself, his son and other execs.

Next up, why did News Corp. pay off a victim of hacking, which James Murdoch did without informing his father or the News Corp. board.

James Murdoch essentially points out that it is typical to do this in companies of the global scale of News Corp.

These are apparently very busy, busy, busy people, who do not seem to have time to notice how such juicy and best-selling scoops might have been magically produced by News of the World.

Onto ethical conduct guidelines, which News Corp. has in a pamphlet form, says James Murdoch, but pages which some at the company have obviously never cracked.

Rupert Murdoch is asked about his culpability in the case again, which he continues to maintain he does not have.

James Murdoch notes that the company "will think more forcefully…about our journalism and ethics."

Given the situation, in which every day brings a new revelation of bad behavior, this promise of better behavior seems to be a case of much too little and very, very late.

Rupert Murdoch still uses the opportunity to stress the need for a free press, despite its excesses.

7:31 am: More about the payments to settle with phone hacking victims and how soon the company realized the problems were more widespread.

James Murdoch talks about how he might have acted differently had he known more then as he does now.

"If we knew now what we knew then," says James Murdoch, "we would have taken more action and moved more aggressively."

But what else is he going to say? It's a could-have, would-have, should-have line of questioning that is eliciting very little in the way of true information.

Finally, a good point about "willful blindness," which is a term from the Enron scandal about avoiding knowing about problems you really should have known about.

"Is that a question?," asks James Murdoch. It is a statement actually and a decent question.

"We didn't do that," says Rupert Murdoch.

Still, soon enough, Rupert Murdoch is insisting he was not as involved as people have imagined him to be with the management of his newspapers.

A new questioner is pressing this important point, but Rupert Murdoch is not biting on a query about his legendarily hands-on managing style.

"I'd say, 'What's doing?," he explains about his conversations with editors, but adding he might not have been told about payoffs to phone hacking victims.

The questions are in the deep weeds here, but it's still interesting that Rupert Murdoch continues to maintain that his life was too busy to wallow in the details, however controversial and important those details might be.

7:55 am: More and more don't-knows pile up and up in a giant mountain of acts perpetrated by someone somewhere, but not the Murdochs.

"I can tell you I was surprised as you were," says James Murdoch about certain payments to various hackers and those who were hacked.

Was it Les Hinton, who then ran News International and later Dow Jones, from which he recently resigned?

Could be! Maybe! Mistake were made! Who knows!

Well, someone does!

It moves onto Brooks, the tarnished News International exec and editor whom Rupert Murdoch does note he still trusts. Finally, some certainty!

Brooks is definitely one of the more compelling characters in this drama, although the media focus on her striking red hair color seems odd and vaguely sexist, as if she is some flame-haired she-devil from media hell. (Rupert's mane is grey, by the way, and James' is brown, if you want to know.)

Fascinatingly, Murdoch's backing of Brooks has been strong and consistent, despite intense criticism of her by many in this scandal.

The payment of legal fees of perpetrators and payments to the victims in the hacking seems to obsess one questioner, who wants News Corp. to stop doing it.

Murdoch says he'd like to if contracts did not preclude that, which essentially means News Corp. will keep up forking over the legal fees and payments.

8:12 am: The attention turns to how James Murdoch found out about the various emails that showed there was more evidence of hacking than was first thought about and what he felt about it.

He says very little, noting that the matter is under police investigation. It's not don't-know now, but can't-say.

The hearing is beginning to feel a little rope-a-dope, with the Murdochs apologizing and taking blows, saying very little — either claiming lack of knowledge or lack of ability to comment about the ongoing police inquiry — and tiring out the questioners.

It is a classic tactic of the boxing champion Muhammad Ali and it works in the ring.

Whether that will be the case with PhoneGate remains to be seen, but it certainly has made what could have been a more explosive hearing much less so.

On questioner gets this irony. "That's frankly unsatisfactory," he says about the Murdochs continuing shock and surprise at the situation.

Maybe so, but the persistent story from James Murdoch is that they were told by their lawyers, the police and others that nothing was awry once the initial phone hacking investigation was complete and only found out about the larger problem in later civil lawsuits.

But, asks the questioner to Rupert Murdoch, should his editors have known about it?

Of course, they should have.

But the legendary media baron, who made his fortune and fame in disseminating news and information across the world in newspapers, on television, on satellite and on the Web — at least for now — can't say.

So, was he "kept in the dark" about the situation? Rupert Murdoch acknowledges he might have asked more questions, although he noted his British newspapers were only a small part of his massive empire.

But, he adds, "Anything that is seen as a crisis comes to me."

Well, not the phone hacking crisis, it seems.

But, they're sorry. So sorry. And, of course, humbled.

8:54 am: Suddenly, there is a disturbance, in which someone seems to have possibly attempted to accost the Murdochs.

But it is not clear what has happened, as the hearings are suspended for 10 minutes.

James Murdoch leaps up quickly to protect his father, which he has been doing in this hearing verbally already, in which the strategy seems to be to let him largely do all the talking.

Also even faster on her feet and with arms raised toward a man in a plaid shirt and carrying a pie plate with shaving cream was Rupert Murdoch's wife, Wendi.

The man seems to have managed to get some of the foam on Rupert Murdoch, but Wendi Deng seems to have partially thwarted her husband from a full pie in the face.

It's the first striking visual of this hearing, protecting the patriarch and the king of the empire from harm, no matter what.

Here is a video of the incident:


According to Britain's Channel 4: "As the man was being led away in handcuffs escorted by a single police officer, he refused to give his name, saying: 'As Mr Murdoch himself said, I'm afraid I cannot comment on an ongoing police investigation.'"

9:09 am: The room is cleared, so it is only the Murdoch crew behind James and Rupert Murdoch, and now the committee is even more solicitous.

Rupert Murdoch is without his jacket and his wife is being commended for her most excellent right hook.

Still, it's back to business and the questioner does zero in on a major disconnect over how two media execs as famously aggressive and involved as the Murdochs were so passive in this hacking situation.

It "was a terrible shock," says James Murdoch.

The same is said about what would be even more disturbing and recent allegations of the hacking of the victims of the 9/11 bombings.

Both father and son say there is no evidence of this so far, but they were surely looking into it.

While it certainly did not come through in what have largely been feckless questions from the committee, the final questioner does correctly ask the pair if they might want to pay more attention.

The last question is for Rupert Murdoch and finally gets to the real query everyone wants to ask.

Noting Murdoch is "captain of the ship," she asks if he has considered resigning.

"No," answers Murdoch firmly.

"Why not?," she presses.

"People let me down and it's for them to pay," says Rupert Murdoch. "But I think, frankly, I am the best person do clean this up."

Someone better and soon.

He finishes up with a statement about being sorry, how he was also betrayed and how phone hacking and bribery is wrong.

"Saying sorry is not enough, things must be put right," he says.

Finally, something we do know.