Just thought I would share a bit of what I have been listening to...Although David Gilmour is not playing the guitar on this version of Pink Floyd's famous song Comfortably Numb, the signing by Van Morrison on this is just fab and the guitarist in Roger Waters band is well erm real good! Hope anyone looking in enjoys this just as much as I do being a lifelong Pink Floyd fan, although I generally prefer David Gilmour to Roger Waters since they split up.
Oops! Google Chrome could not find sundaytimes.co.uk
Additional suggestions:
Go to thesundaytimes.­co.­uk
Go to sundaytimes.­com


Whoops, looks like they got The Times as well, go home Mr Murdoch, you are not wanted here. We do not want your lying rags, bribed coppers and bent politicians, we want fairness and justice. Understand? Oh and PS stop lying for the McScams.
=================
I just had to go and tweet my congratulations for this one, whilst also complaining come on I want to read about the McScams. In fact, for the first time in about three years, there are absolutely no McScam stories in The Super Sun this month, I am buggered if I can think why not other than Kate and Gezzy cannot get off the loo to give their instructions on what is next in their, ahem, Find Maddie Campaign.
Wiz, I think you saw this one coming!
Meanwhile the apparently undead Murdoch is amassing a really good team of lawyers (humm where I hear that before) to defend himself in The States from what is being termed an "international investigation" that has gained impetus after the two resignations of our top brass coppers Stephenson and Yates. The Murdoch investigation in The States could last four years and cost him tens of millions. What a murky
business
,
Sun website hacked by LulzSec
Hacking collective redirect Sun website to fake story claiming Rupert Murdoch had been found dead – before redirecting site to the LulzSec Twitter account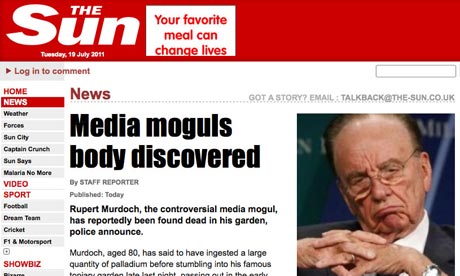 LulzSec also claimed to be "sitting on their [the Sun's] emails" and that they would release the emails on Tuesday. They tweeted what they claimed was Rebekah Brooks's email address at the Sun, and said they knew her password combination.
The hoax story suggested Murdoch had taken the radioactive poison palladium before "stumbling into his famous topiary garden late last night".
The page later redirected to LulzSec's Twitter account.
LulzSec, a group of about six hackers, had announced last month it was disbanding, but it has seemingly reformed to attack News International.
"We have owned Sun/News of the World – that [Murdoch] story is simply phase 1 – expect the lulz [laughs] to flow in coming days," Topiary tweeted from the LulzSec account.
Another member of LulzSec, Sabu, had earlier in the day begun tweeting email addresses, passwords and names of former News International staff, including Bill Akass, the News of the World's managing editor, and Joe Campbell of the Sun. It is not known whether the claimed passwords were correct.