Well I think some more shattering of that glass ceiling by putting this lady in charge at London Met might be a great idea, no doubt Theresa May figures that way too, a populist one with the public after all those sleazy men.




Pass notes No 3,011: Sara Thornton
Sara Thornton, the chief constable of Thames Valley police, is being tipped as the new Met commissioner - the first woman to hold the top position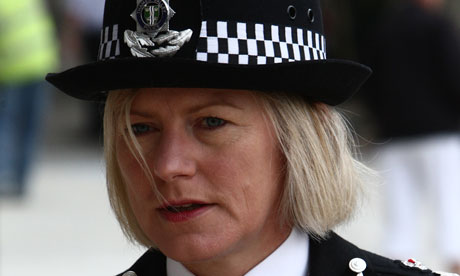 Age: 48.
QPM? The Queen's Police Medal.
I'm guessing she's a police officer? No, she's a dentist, she just gave a really, really strong interview.
Really? No, of course she's a police officer. In fact, she could soon be the top police officer in the country, and the first woman ever to hold the position. Especially since her only female rival for the role, assistant commissioner Cressida Dick, now looks likely to replace John Yates as assistant Met commissioner after his resignation on Monday. Yesterday afternoon, bookmakers Ladbrokes had the odds of her getting the job at 2-1.
So what makes her such a shoo-in? Well, it can't hurt that as chief constable of Thames Valley police she is the officer in charge of the parliamentary constituencies of both the home secretary, Theresa May, and a certain Mr David Cameron, and has presided over above-average falls in the rate of violent crimes, robberies and burglaries in the region.
The PM likes her then? Well, he's reported to have told home affairs committee chairman Keith Vaz, "I love Sara Thornton", which, naturally, some people have taken as an endorsement.
Is his endorsement important? When May and Boris Johnson have two of three votes to choose the new commissioner? Yes, yes, it probably is.
Well, well, well, our first female Met commissioner. Let's be 'avin' her. We will. Unless, of course, by the time anyone reads this the entire Metropolitan police force has been disbanded, to be replaced by an "MI5 Local" service when all this has died down a bit.
Do say: "Is that the sound of a glass ceiling shattering?"
Don't say: "Quick, someone call MI5 Local!"