John Yates quit after learning Met watchdog's plan to suspend him
Officer responsible for decision to not reopen phone-hacking investigation in 2009, announced shock departure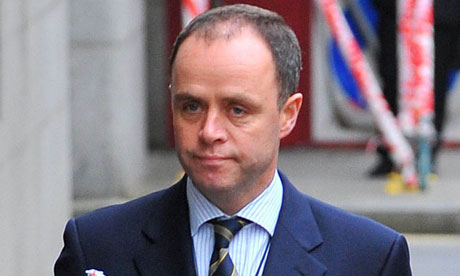 The hacking scandal claimed the career of another of Scotland Yard's most senior officers on Monday, as
John Yates
quit after learning that the watchdog overseeing the Metropolitan
police
was going to suspend him from duty.
Yates made the now infamous decision in July 2009 that there was no need to reopen a criminal investigation into the scale of phone hacking by the News of the World, whom he denied being overly close to. Yates, an assistant commissioner until now in charge of counter-terrorism, resigned less than 24 hours after the head of Met, Sir Paul Stephenson, announced his shock departure.
Yates, Stephenson and two other senior ex-officers, Peter Clarke and Andy Hayman, face an investigation by the Independent Police Complaints Commission that he bungled the phone-hacking inquiry
.
Yates also faces an allegation that he "inappropriately" helped the daughter of his friend Neil Wallis get a job with the Met. Wallis was deputy editor at the News of the World at a time phone hacking was alleged to have been widespread.
Stephenson and Yates will appear before the home affairs select committee on Tuesday, when Rupert Murdoch, James Murdoch and Rebekah Brooks will also give evidence to the culture committee.
Dick Fedorcio, the Yard's communications chief, will appear alongside the two now ex-officers. Yard insiders believe Fedorcio, an adviser since 1997, will face intense pressure to quit, which would mean three of the nine strong leadership team would have gone.
Yates insisted he would clear his name and denied any wrongdoing but said the furore made it impossible to do his job as Britain's most senior counter-terrorism officer.
"There continues to be a huge amount of inaccurate, ill-informed and on occasion downright malicious gossip published about me personally ... I see no prospect of this improving in the coming weeks and months," Yates said.
He will be replaced by Cressida Dick, who was in charge of the 2005 counter-terrorism operation that led to the fatal shooting of an innocent man, Jean Charles de Menezes.
John Yates: 'pretty crap' decision ends 30 years at Met
Failure to take phone hacking seriously ends in resignation of Met assistant commissioner who handled string of big cases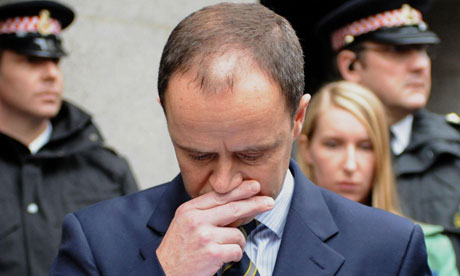 When he appeared before an angry home affairs select committee last week,
John Yates
admitted that his decision not to reopen the
phone-hacking investigation
two years ago had been, in his own words, a poor one.
That repeated underestimation of the severity of the
News of the World
saga has not only embarrassed the Met and
cost the commissioner his job
, it has proved to be the miscalculation that undid another of the Met's most respected officers.
Until the phone-hacking scandal erupted, Yates's three decades at
Scotland Yard
had been comparatively free of blemish.
Born in Liverpool in 1959 and educated at Marlborough and King's College London, Yates joined the Met in 1981 and spent time in uniform before rising through the hierarchy.
He was a popular figure among rank-and-file officers as well as being close to
Sir Paul Stephenson
, and was regarded as a safe pair of hands for his management of a string of high-profile cases.
In 2002 he took charge of the case of the former royal butler
Paul Burrell
, who was accused of the theft of Princess Diana's possessions. The trial eventually collapsed following an intervention by the Queen.
He travelled to Brazil to meet the parents of
Jean Charles de Menezes
, the electrician shot dead by police in July 2005 at Stockwell underground station after being mistaken for a suicide bomber.
As head of the special inquiry squad, nicknamed the "celebrity squad", Yates handled a series of sensitive cases, notably the conviction for perjury of the novelist and former Conservative party chairman
Lord Archer
, and the
Who Wants To Be a Millionaire? fraud case
.
In 2006 he was appointed assistant commissioner, then took over from
Bob Quick
as head of counter-terrorism in 2009 following an embarrassing security breach.
HE DOES NOT LIKE THE LABOUR PARTY~
The 16-month inquiry ended in July 2007 with no charges brought.
Senior Labour figures said Yates and his officers – who carried out a dawn swoop on the Downing Street aide Ruth Turner and arrested Tony Blair's friend and envoy Lord Levy – had been heavy-handed. Yates insisted he had simply been following the evidence and also noted that his officers had at times received "less than full co-operation" from those allegedly involved.
What a pity he did not "follow the evidence" when it came to his tory friends and the News of the World.
"It is a matter of great concern that, for whatever reason, the
News of the World
appears to have failed to co-operate in the way that we now know they should have with the relevant police inquiries up until January of this year," he said.
"They have only recently supplied information and evidence that would clearly have had a significant impact on the decisions that I took in 2009 had it been provided to us."
Had he been in possession of such evidence two years ago, said Yates, "I would have made different decisions."
His testimony did not impress the committee. During the hearing MPs passed notes to the chair containing one-word descriptions of Yates's evidence.
Some wrote "evasive" but when Yates finished, the committee's chair, Keith Vaz, said he and his colleagues had found his evidence "unconvincing".
Even so, Yates continued to struggle against what was fast becoming inevitable.
Asked by Vaz if he had considered his position, Yates told him: "If you are suggesting that I should resign for what the News of the World has done, I think that is probably unfair."
Pressed again on whether he thought he would keep his job, Yates insisted it was "not a resignation matter".
But the fatal blow to Yates of the Yard's career was dealt on Sunday when Sir Paul Stephenson resigned, leaving his friend and subordinate – the Met's public face of the phone-hacking inquiry – with no choice.