What with the pesky FBI getting on his case about 9/11 hacking (likely he even did that) and losing countless millions every day, one suspects Murky old Murdoch is not a happy bunny. Maybe when he pops his clogs things will get better. I would not put it past the Americans to lock him up in spite of his age. Poor old thing. You reap what you sow.
He obviously thinks Rebekah is divine, I wonder, what will he do with her, send her some extra spending money in Holloway?
A Yes Minister type adviser to Gordon Brown did not think a public inquiry was the right way to go, it was that erm lack of evidence thing, just a few isolated creeps at the News of the World anyway so...... It must have slipped his mind Murdoch was one of them and he is at the top. Or did it?
Phone hacking: Rupert and James Murdoch make Commons U-turn
Murdochs will join Rebekah Brooks in being questioned by MPs on the Commons culture select committee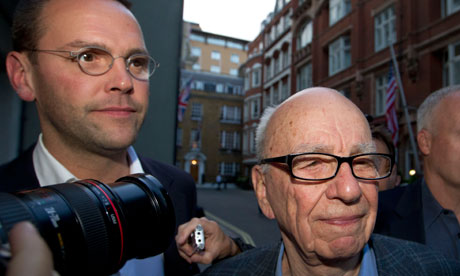 However, after being served with a summons by the Commons deputy sergeant at arms,
News Corporation
confirmed the Murdochs will attend the hearing along with Brooks on Tuesday, 19 July.
Brooks, the chief executive of News of the World publisher
News International
, agreed on Thursday morning to attend and face MPs at the session, though she warned in a letter to the committee that the police investigation into "illegal voicemail interception" meant it would not be appropriate to discuss the details with MPs to avoid prejudicing the inquiry.
Rupert Murdoch, chairman and chief executive of News International parent company News Corp, originally replied to the invitation from the culture select committee chairman, John Whittingdale, in a letter saying he was not available on 19 July, but was "fully prepared to give evidence to the forthcoming judge-led public inquiry".
James Murdoch, the News Corp deputy chief operating officer who is responsible for European and Asian businesses including News International and BSkyB, responded to Whittingdale saying he was not able to attend the hearing on Tuesday but could give evidence to the committee on 10 or 11 August.
MPs then took the rare step of issuing a summons to compel the Murdochs to attend.
Whittingdale said earlier on Thursday that select committees had taken such steps against individuals in the past, and they had complied. "I hope very much that the Murdochs will respond similarly," he added.
The Tory MP said he was particularly "anxious" that James Murdoch answers questions. "He has stated that parliament has been misled by people in his employment," he said. "We felt that to wait until August was unjustifiable."
Sir George Young, the leader of the Commons, confirmed that – in theory at least – the two men could be fined or even imprisoned if they defied the summonses issued by the committee.
• To contact the MediaGuardian news desk email editor@mediaguardian.co.uk or phone 020 3353 3857. For all other inquiries please call the main Guardian switchboard on 020 3353 2000. If you are writing a comment for publication, please mark clearly "for publication".